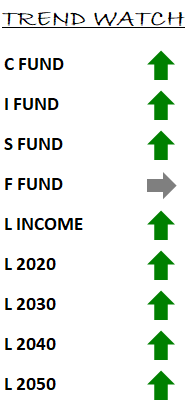 This is your TSP Watchdog UPDATE for the week ended February 14, 2020.
For the second time in recent weeks, we have had tech troubles that caused problems with the distribution of our weekly update.  Almost ten years without a single issue – now, in just two months, we've had two problems.  This time, we aren't even sure who did, and who did not, receive the original mailing on Tuesday morning.  We apologize for the delay, and, once again, are grateful that there are no changes to report.
Stocks rallied again this week – despite the spread of the coronavirus.  The S&P 500 gained 1.58%.  The Dow was up 1.02%.  The NASDAQ rose 2.22%.  All three indexes posted new all-time highs during the week – before easing off late in the week.  (all market data from Yahoo! Finance)
All this despite reported coronavirus cases surpassing the 65,000 level and deaths topping 1,500 – in China alone.  Throw in China's lack of cooperation with the international health community and doubts about the accuracy of their reporting, and there is reason to worry.  But worry is not the market's posture – yet.
The impact of the virus is showing up in many ways:
The Chinese economy is experiencing widespread, albeit varying degrees of shutdown.
Manufacturers around the globe are running out of parts/components that are manufactured in China.  The worldwide auto industry has been the hardest hit.
Wealthy Chinese tourists are staying home.
Events are being cancelled – to wit, the Mobile World Congress in Barcelona, an annual trade show that attracts more than 10,000 attendees, was cancelled last week.
But investors are shrugging all this off as short term losses that will be made up later.  And prices march higher.
Rather than focus on the expanding reach and impact of the coronavirus, investors are looking at better-than-expected Q4 earnings reports.  The average S&P 500 company has reported earnings gains of 2.6% – when expectations we for flat, or slightly down, reports (according to Refinitiv).
Also, Fed Chariman, Jerome Powell, appeared before Congress for his semi-annual testimony.  His comments can be summed up with one quote – "the US economy is in a very good place, performing well."  Music to investors' ears.
One interesting note – a recent article by Victor Reklaitis at MarketWatch bore the headline "Not One S&P CEO is Donating to Bernie Sanders".  While Bernie's Bros may see this as a positive, testimony to the grassroots nature of his campaign, it is also a comment on how his policies are viewed by leading business people.  This group includes folks from all political and social persuasions, and all of them are worried about the impact that a President Sanders would have – to the point they aren't even pretending to support him (a common tactic to curry favor from whoever winds up winning).
In our TSP Watchdog database, there are no trend changes to report.  Surprise!  Rising prices have moved our trends further above their trend lines.  The C fund, S fund and I fund all remain on strong positive trends.
The F fund continues just below its trend line.  Its trend line has been rising slowly, and the F fund has remained just below the line for several months now.  We will continue to avoid the F fund as long as it stays below its trend line.
The beauty of our analysis is that it does not factor in the headlines – which can register much differently than prices do.  With all the worry about the coronavirus, it would be easy to worry your way out of the market.  But, at least so far, prices have held up just fine – and even moved to multiple new all-time highs.  Our trends have remained positive – telling us to stay invested, and we have benefited as prices have continued to rise.
We will stay on this course as long as trends remain positive.  When there is a change, we will alert you.
Until then, please feel free to reply to this email with any questions.
Scot B.