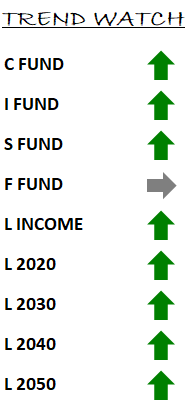 This is your TSP Watchdog ALERT for the week ended February 22, 2019.
*** We have another trend change to report this week. ***
It wasn't a dramatic week for stocks, but they managed to post their 9th consecutive week of gains – the S&P 500 gained 0.61%; the Dow climbed 0.57% (and is back above 26,000); the NASDAQ advanced 0.73%.  This is now the longest winning streak since 1995.
Do you remember what stocks did in the years after 1995?  1995 -1999 is the only stretch of five consecutive years of 20%+ gains on the S&P 500 in history.  I'm not saying this is what we should expect, but long winning streaks can be good for the market.
There wasn't a lot in the news to jump up and celebrate.  Investors seemed most excited about expectations that the Mar 1st deadline for additional tariffs on Chinese imports will be postponed as trade talks continue on positive footing.  [Sunday, President Trump announced that he is delaying the deadline and planning a Summit to conclude an agreement.]
But, don't be fooled.  It is possible that whatever agreement is reached won't even get us back to where we were with China trade – let alone make any actual progress.  And, don't believe for a second that China will modify its game plan to steal technology – regardless of what any agreement says.  Just sayin'…
Another "positive" for investors is that economic growth is slowing.  How is that good, you ask?  Well, the Fed has backed away from its plans to continue raising interest rates because growth of the economy has slowed.  They say they are going to be patient about more rate hikes.  This is important to investors who view rising rates as the stock market's kryptonite.
In our TSP Watchdog database, we have another trend change to report this week.  The I fund turned up onto a positive trend.  This means that all three growth funds (C fund, S fund and I fund) are on positive trends.  Only the F fund is NOT on a positive trend – sitting right at its trend line, but not breaking through.
The I fund moving back on to a positive trend (it has been on a negative trend since June) means that our model allocations are updated to reflect this addition to our holdings.  Where we have been out of the I fund for several months, we now suggest adding it back to your portfolio – in essence, the coast is clear on the I fund.
You can view our Allocation Models by clicking on the link in the right margin.
You may choose to take your full I fund position all at once, or you can stage back into it with regular, consistent purchases over the coming weeks/months (as long as the I fund remains on a positive trend, and you have to navigate the TSP trading limit of 2 changes per month).
We are now fully invested on the growth side (C fund, S fund and I fund).  We will wait to see if the F fund moves back to a positive trend.  It has pulled up close to its trend line but has been unable to push through to a new, positive trend.
With last week's changes to the C fund, S fund and L funds – and this week's change to the I fund – these represent two changes to your TSP account.  This is the limit, and this is the last week of February.  With a new month comes a new limit of two changes.  Keep in mind that all changes in a single day constitute a single change – so, in effect, the rule is that you can make changes on two different days.  AND, you can always move back into the G fund regardless of how many changes you have already made in the month.
So, the coast is clear to go back into the I fund.  The lifeguard on TSP beach has blown his whistle to say it is OK to go back in the water for the C fund, S fund, I fund and all the L funds.  You can race back into these funds at full speed, or you can wade back in slowly – whatever suits your investing approach best.
Feel free to reply to this email with any questions.  We have had a rush of questions – with the trend changes last week and the increased market volatility over the past couple months.  We will reply as quickly as we can.
Scot B.