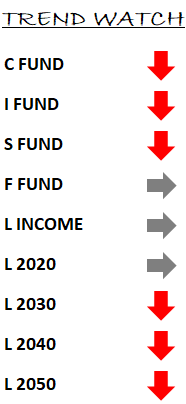 This is your TSP Watchdog WARNING for the week ended February 28, 2020.
***** WE HAVE TREND CHANGES TO REPORT THIS WEEK. *****
Stocks crashed this week as fears about the spread of the coronavirus dominated everything.  The S&P 500 lost 11.49%.  The Dow collapsed 12.36%.  The NASDAQ dropped 10.53%.  (all market data courtesy of the Wall Street Journal online edition)
In the worst week for the market since 2008, the S&P 500 shed 383 points while the Dow fell 3,583 points!  It was difficult to watch – day after day of triple digit and quadruple digit losses.  Every brief counter-trend rally was met with overwhelming selling.
It was only Wed Feb 19 that stocks hit new all-time highs.  Then fears about the spread of the coronavirus took control.
Other markets around the globe also sold off:
Japan               -10%
London             -11%
Germany          -12%
France             -12%
I won't dive into the specifics of the coronavirus – cases, deaths, hot spots, etc.  You can get that information elsewhere.  The key takeaway for investors is that there is significant disruption to business already, and fears are growing about how severe the economic impact will ultimately be.  Investors hate uncertainty – and this is a HUGE serving of uncertainty with a large side dishes of scary what-if scenarios.
THERE ARE LEGITIMATE FEARS THAT THE CORONAVIRUS COULD TIP THE GLOBAL ECONOMY INTO RECESSION.
For the market, that is the bottom line.
In our TSP Watchdog database, we have a COMPLETE shift to negative trends.  Every TSP fund is now on a negative trend.  This means we are removing all funds from our model allocations.
ALL OUR MODELS WILL BE 100% G FUND.
THIS MEANS WE ARE SELLING THE C FUND.  SELLING THE S FUND.  SELLING THE I FUND.  MOVING PROCEEDS OF ALL SALES TO THE G FUND.
The L Income fund and L 2020 fund are both close enough to their trend lines (less than 1% below) that a reasonable argument can be made to continue holding them, but we do not use the L funds in our models – so we are out of all funds and moving 100% to the G Fund until the storm passes.
Last week we warned that the coronavirus – Covid-19 – could become a bigger problem, and this week we have a worst case follow through on last week's concerns.  Much of the market's activity is based on uncertainty, and we still do not know where this outbreak will take us – so uncertainty, and an endless parade of ugly possibilities, continue to hold the reins.
The movement in the markets over the past 10 days has been VERY unusual.  Normally, markets do not touch new all-time highs and then pivot so quickly to drop 10% plus.  All three major indexes we follow – the S&P 500, the Dow and the NASDAQ all set all-time highs between Feb 12 and Feb 19.  Two weeks later, all three are down more than 10% from these highs.  Usually, markets "rollover" more gently.  This event driven selloff is an atypical pattern.
The worry (spelled R-I-S-K) of getting out of the market now is that prices put in a bottom and rebound quickly, and we are whipsawed into chasing quickly back into the market as prices recover.  This is always a concern when we step out of any fund, but it is especially concerning when things are moving so fast.
We believe it is a bigger risk to abandon our process and begin to "wing it" – make moves off the cuff.  Just because prices could snap back and catch us for a losing trade does not mean we should abandon a process that has proved helpful and profitable through the years.
No investment process is profitable all the time.  But a well-based discipline with a history of success is a better approach than guessing or "going with your gut".  Even if you guess right this time, the odds of your gut guiding you consistently and successfully in the future are small.
Sticking with a proven discipline, even when things get crazy and even when it is not perfect, is a better approach than adlibbing.
It is difficult to make decisions when the world is swirling around you.  That is the benefit of adhering to a system – it moves the decision-making process onto an objective platform that is immune to drama and emotion.  It does not completely eliminate the challenge of implementing changes, but it does create a supporting narrative that, hopefully, makes it easier to stay the course and follow the process.
Please be patient with us this week – as we will certainly have many inquiries.  We will respond as quickly as we can, but it may take longer than usual.
Scot B.