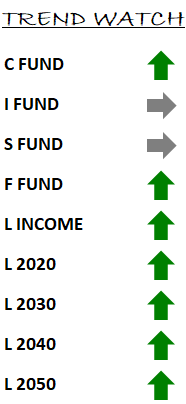 This is your TSP Watchdog UPDATE for the week ended March 8, 2019.
Stocks had their worst week of 2019 – as the S&P 500 dropped 2.16%, the Dow fell 2.21% and the NASDAQ lost 2.46%.  While, technically, the market's winning streak ended last week (on a very small decline in the S&P 500), this week leaves no doubt.
Investors seemed most concerned about slowing global economic growth and lack of follow through on trade talks with China.  But after 10 weeks of rising prices – it might not be as much about specific news or concerns as just a market that was ready to go down.
There were a lot of economic reports out during the week – as government agencies continue to catch up after the shutdown.  The data was mixed – perhaps shading slightly towards positive.  Friday's employment report fell short of expectations, but the trend is still solid.
The federal budget deficit is ballooning – and starting to get some attention.  This is a real problem and bears watching.  If this trend continues, it will become a cause for concern.
In our TSP Watchdog database, the S fund and I fund both fell back right to their trend lines.  If they fall further, they will reverse back to negative trends.  For now, though, we do not have any trend changes.  We continue to hold all the growth funds (C fund, S fund and I fund).  The F fund remains on a negative trend.
Our model allocations continue to hold the C fund, the S fund and the I fund.  We are not holding the F fund – that portion of our model portfolios is in the G fund waiting for the F fund to return to a positive trend.
The market has gotten more volatile in recent months.  After almost two years of modest volatility and a rising market that is commonly associated with low volatility, the environment has gotten dicier of late.  Our discipline does not change – despite the shifting environment.  It is not as much fun navigating a market that swings up and down as it is riding a long-lived rally, but we will continue to monitor the trends of each TSP fund – and alert you to any trend changes we identify.
As always, please feel free to respond to this email with any questions.  We are here to help any way we can.
Scot B.