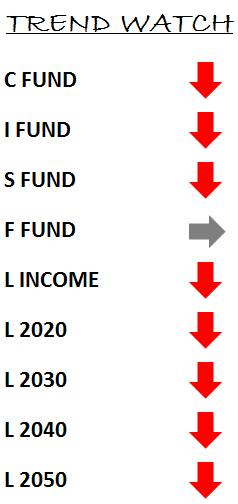 This is your TSP Watchdog UPDATE for the week ended May 8, 2020.
Stocks rallied sharply this week – with the S&P 500 gaining 3.5%, the Dow gaining 2.6% and the NASDAQ gaining 6.00%.  (all market data from Yahoo! Finance)
The NASDAQ – dominated by mega-cap tech giants like Amazon, Facebook, Netflix, Apple, Microsoft, Google, etc. – actually finished the week in positive territory for the year.
The S&P 500 is still -9.31% and the Dow is -14.74% year-to-date.
It is difficult to understand how the stock market is rebounding so sharply in the face of the economic collapse we have seen.  The economy has been almost cut in half, profits have disappeared, and expectations are increasingly for a long, slow recovery – but stocks are not far from all-time highs.
The bond market is telling a different story – showing strength that usually bodes poorly for stocks.  Usually, when these two markets disagree – the bond market is right.
The only explanation that carries even a flicker of reasonableness is that all the stimulus coming from the Treasury and Federal Reserve is supporting assets prices – both stocks and bonds.  Unfortunately for stock prices, the Fed's financial tools are not very effective fighting a problem caused by a healthcare crisis.  Past market meltdowns were caused by financial troubles – so the Fed's financial weapons were effective in bringing a prompt, positive resolution.  But this time, the problem is not a financial one; it is a healthcare issue.  The effectiveness of financial vehicles and strategies to battle the impact of a healthcare problem is suspect.
Hopefully, May will bring the bottom of the economic meltdown, and things will begin to get better.  Fingers crossed that we don't see secondary waves of market weakness.
In our TSP Watchdog database, all funds remain on negative trends – despite the market's strong advance.  Candidly, I did not want any trends to turn positive this week because I do not believe this rally is sustainable, and I did not want to advise anyone to be getting back into the market at this time.  Personally, I believe there is more trouble and volatility ahead for stock prices, and I did not want to get whipsawed by a brief venture back into the market.
That said, our process is not built on my thoughts about the markets.  It is built on trend analysis that has served as a beneficial guide for more than 50 years.  I breathed a sigh of relief this week when our trend analysis showed all TSP funds still on negative trends – with prices that are below their trend lines.
This means that we remain 100% in the G fund for all allocation models – from the most conservative to the most aggressive.  We will remain in the G fund until trends turn positive again, and, regardless of my personal viewpoint, we will advise you to move back into any funds that turn back onto positive trends.
For now, though, all trends are negative (and have been since March 2nd) so we are happy to ride out the storm in the safe harbor of the G fund.
Please feel free to reply to this email with any questions.
Scot B.