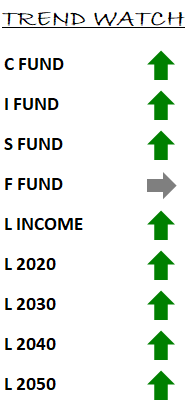 This is your TSP Watchdog ALERT for the week ended June 7, 2019.
*** WE HAVE A TREND CHANGE TO REPORT THIS WEEK ***
Wow!
A week after the Dow posted its 6th weekly loss in a row, it rallied more than 1100 points – its biggest weekly gain of the year – UP 4.71%.  The S&P 500 gained 4.41%.  The NASDAQ gained 3.88% – based on figures published in the Wall Street Journal online edition.
The buzz pushing prices higher is interest rates.  Many investors now expect the Federal Reserve to LOWER interest rates in June or July!  Comments from Chairman Powell, and other Fed chiefs, suggest that a rate cut may be in the cards.  Not many factors move the markets as much as interest rates.
Confirming the expectation for lower rates, Friday's jobs report was a "bad news is good news" situation.  The report of only 75,000 new jobs in May was a disappointment, as were the downward revisions for March and April – but it suggests the need for an interest rate cut – so it is good news, and stocks rallied sharply.
It is tough to operate when the market shifts into "bad news is good news" mode.
Trade remains a wild card – with an agreement reached with Mexico to provide more assistance on migration, but rhetoric escalating between Washington and Beijing.  Perhaps the market isn't as worried about the trade wars as you'd expect because all the currently proposed tariffs represent only 1% of our GDP (according to our friends at StocksandNews.com – Week in Review 6/8/2019).
In our TSP Watchdog database, we have another trend change to report this week.
The S Fund reversed back onto a positive trend – meaning we are adding it back into our model portfolios.  After getting out of the S Fund last week, this is the worst-case scenario for our process – a quick reversal back to a positive trend at a higher price.
The reversal for the S Fund means you can add it back to your holdings – moving back from the G fund.
This type of movement turns our stomach.  We just got a negative trend signal and moved out of the S Fund last week.  Now, just one week later, the fund has reversed sharply (along with the markets, in general) and is back on a positive trend.  This activity results in buying the shares back at a price higher than we sold for last week.
A quick turn around like this is one of the worst outcomes we encounter.  Obviously, it is frustrating, and we wonder whether we should adjust our process when it happens.  But it doesn't happen often, and over the years, the trends we follow have been much more helpful than hurtful.  So, we acknowledge a false signal and move on – knowing that no system is perfect – and grateful that we held the C Fund and I Fund through this misfired signal for the S Fund.
Bottom line: with the S Fund back on a positive trend, we recommend moving back into it.  We will be adding it back to our model portfolios.
Please feel free to reply to this email with questions – about the markets or our recent analysis.
Scot B.