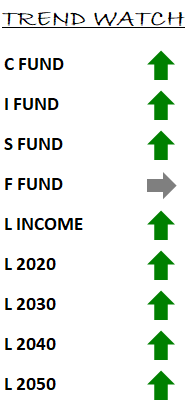 This is your TSP Watchdog UPDATE for the week ended June 21, 2019.
Stocks surged again this week – with the S&P 500 gaining 2.20%, the Dow gaining 2.41% and the NASDAQ gaining 3.01%.  This was the third week in a row that stocks advanced – two of them sharply.
In just three weeks, stocks are back to new all-time highs (on the S&P 500 this week) and just a stone's throw away on the Dow and NASDAQ.
Driving stocks this week was the Federal Reserve Open Market Committee meeting – which seemed to set the table for an interest rate cut at their next meeting in July.  A cut!  As in, the trade war with China has slowed economic growth, so we'll step in and pick up the slack with an accommodative interest rate reduction!
Of course, like an addict on the street, investors responded to the prospect of a "fix" of lower interest rates.
Interestingly, the excitement about lower rates seemed to spread to the trade war with China – albeit misplaced optimism about the possibility of progress at the upcoming G20 meeting in Osaka.
While investors enjoyed visions of sugar plums (lower interest rates) dancing in their heads, there was other noteworthy news:
Tensions with Iran escalated with the downing of an American drone.  The real worry here is that Iran could so easily take out one of our drones – $200 million of technology (yes, the media priced the drone at $130 million, but that was the cost of a basic model.  By the time you add power windows and electric mirrors, or the drone equivalent of upgrades, you're talking $200 million!)
2019 is well ahead 2018 in the category of major retailers filing bankruptcy.  According to our friends at StocksandNews.com, there have been 19 BK's this year (including well-known brands Payless and Gymboree), compared to only 14 at this point in 2018.  It's not a good time to be selling products from a storefront that can easily be sold online.  The place to be in brick and mortar retail is products that do not lend themselves to online sales – things like oil changes, burgers, haircuts and dry cleaning – to name just a few.
The death of retail has been a theme for many years now, but many experts are now expecting,     not the death of retail, but the transformation to products that do not translate to cyber-sales.So, don't expect that vacant retail space around the corner to be bulldozed; expect new tenants selling products you can't buy from the comfort of home.
Facebook is moving forward with plans for a cryptocurrency, Libra.  They explain this as an effort to enable the 1 billion people around the globe who have cell phones (to access the Internet) but do not have bank accounts.  Gee, Facebook and cryptocurrency – what could go wrong?
In our TSP Watchdog database, we have no trend changes this week – as you would expect with stock prices at, or near, all-time highs.
This means we continue to recommend holding those funds on positive trends – the C fund, the S fund, the I fund and all the L funds.
The F fund remains stubbornly just below its trend line – which we classify as a negative trend, and, thus, recommend avoiding the F fund.
It really is a very unusual time.  Prices have been all over the board in recent months.  Just three weeks ago, we had a negative trend in the S fund and a resulting SELL recommendation.  The following week, this trend reversed back to positive, and we put the S fund back into our allocation models.  Now, the S fund is back within just a few percentage points of its all-time high.  You don't see movement like that often.  Unusual times.
But, just because things are unusual does not mean we throw out market principals that have withstood the test of time.  The "trend is (still) your friend" – and knowing what the trends are is, perhaps, even more important during unusual times.  This is our aim – to keep you informed of where the markets are, and, more specifically, what the trends are for each of the TSP funds.  With this information, we believe you can make better decisions.
For now, stocks are back on track.  Who knows for how long.  Keep an eye on the trends for a sense of where things are – and where they're headed.  We will alert you to changes.
As always, please feel encouraged to reply to this email with any questions.  We are here to help any way we can.
Scot B.