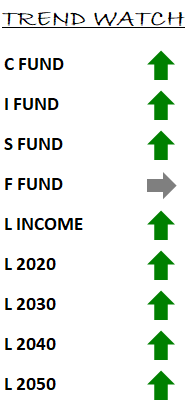 This is your TSP Watchdog UPDATE for the week ended August 30, 2019.
Stocks ended their four-week slide – with all indexes registering strong gains: the S&P 500 jumped 2.79%; the Dow gained 3.02%; the NASDAQ advanced 2.72%.
While there was news on the trade front – it did not seem to justify such a bold move in stock prices.  Sometimes the market just does what it wants to do.
Investors were excited by comments from China that hinted at no further retaliation – in other words the end of the tit-for-tat that has been going on.  As well, China indicated that they are seeking a resolution to the trade war, but don't get too excited about that, and don't bet too much of your hard-earned that such sentiment will sustain higher prices for long.
Beyond the comments out of Beijing, interest rates continue to be a major story around the globe.  Our friends at StocksandNews.com report that $17 trillion of bonds around the globe now carry negative interest rates!  That is fully 30% of all investment grade debt!  This is gonna end badly.
[in case you're wondering how rates can be negative, it means you get back less than your initial investment when your bond matures – in essence, you are paying the issuer to hold your money]
As crazy as negative rates are, the 10-year rates being paid by troubled countries like Italy and Greece may be even crazier: Greece = 1.59%, Italy = 0.99%.  In what universe do sane people lend money to Greece and Italy at lower rates than they lend to the US?
In our TSP Watchdog database, we have no trend changes to report.  While falling prices had brought the C fund, S fund and I fund close to their trend lines, this week's gains give all three funds some reprieve.
With no trend changes, the C fund, S fund and I fund all remain on positive trends while the F fund remains on a stubborn negative trend.  This means no changes in our recommended allocations.
But don't be fooled by the lack of trend changes.  This is not a healthy market.  The increased volatility we are seeing will eventually take its toll, and prices will slide in a more sustained way.  When this happens, we will alert you when trend changes occur.
One of the questions we are hearing these days is "if the market is not healthy, why not get out now?"
To which we reply, an unhealthy market can go a lot higher before being dragged down by its ailments.  Our objective is to minimize downside – but ALSO to maximize upside participation (upside capture).  As long as the trends remain positive, the potential is noteworthy for further gains.  We will stick around until the trends change – to maximize upside participation.
As always, please feel encouraged to reply to this email with any questions.
And, last but certainly not least – hold a thought for the people who are in the path of hurricane Dorian.
Scot B.