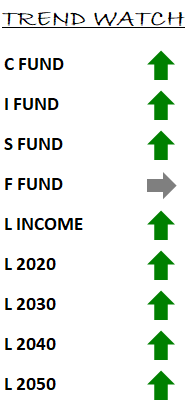 This is your TSP Watchdog UPDATE for the week ended September 20, 2019.
Stocks slipped a bit this week – with the S&P 500 off 0.51%, the Dow down 1.04% and the NASDAQ losing 0.72%.
It was a mildly choppy week – driven mostly by news events.  On Mon, stocks slid triple-digits in response to attacks on Saudi oil fields.  Oil prices soared, and stocks prices fell.  But, when Saudi officials reported that oil deliveries would not be interrupted (reserves would keep things on schedule) and repairs would be completed fairly quickly, oil prices fell back and stocks recovered.
The Fed cut interest rates by ¼ point on Wed – as expected.  Stocks were largely unaffected by this announcement because the move was so widely expected that it was already fully priced into the market.
On Friday, word that Chinese trade delegates were cancelling visits to Midwest farming communities and heading home early weighed on stock prices – to the tune of another triple-digit decline.
Add it all up, and we finished the week off modestly – breaking a three week run that had lifted share prices back up close to their all-time highs.
A final point worth noting – United Auto Workers went on strike against GM this week.  If you thought to yourself "gee, it's been a long time since the autoworkers have been on the picket lines" – you are absolutely correct.  Their last strike was in 2007.  Keep an eye on this story.  The outcome with GM will have implications on upcoming negotiations with Ford and Fiat-Chrysler.
In our TSP Watchdog database, the market's modest selloff did not impact trends on any of the TSP funds.  The C fund, S fund and I fund continue on positive trends, while the F fund remains on a negative trend.
Without any trend changes, our recommended allocations also remain unchanged.
This was a fairly "tame" week in the news, but there are still some pretty significant issues floating around out there that could impact the markets dramatically.  If/when anything comes home to roost in a way that impacts trends, we will alert you.  We have no delusions that a quiet week in any way diminishes how treacherous things may become – and quickly.  We are watching closely.
We have received questions from people wondering if they should pull money out of their TSP funds while stock prices are at, or close to all-time highs.  While this is always your prerogative, and you could be making a good guess about future prices if you pull money out now, we do not base our analysis, and resulting recommendations, on guesses or gut feelings.
The problem with guessing is that getting it right once does not mean you will ever get it right again.  It is not based on anything repeatable.  On the other hand, the trend analysis that we employ, while not perfect (no investment discipline is!), has been used on Wall Street for decades – withstanding the test of time, if you will.  While this does not guarantee it will be right in the future, it gives us a rational basis to rely on it going forward – rather than resorting to guessing.
Today, our analysis shows the TSP growth-oriented funds on positive trends.  This tells us that remaining invested is prudent.  Rather than trying to guess if we are at a significant top in the market, we will continue to hold as long as the trends are positive.
As always, please feel encouraged to reply to this email with any questions you might have.
Scot B.