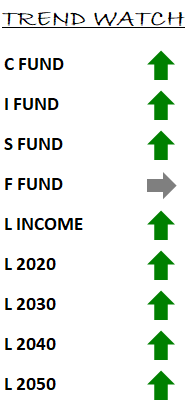 This is your TSP Watchdog UPDATE for the week ended September 27, 2019.
In a non-descript week of trading, stocks declined modestly: the S&P 500 lost 1.01%, the Dow slid 0.43% and the NASDAQ had the worst week, falling 2.19%.
There were two stories that stood out from the general noise:
The first, which impacted stock prices, was a new chapter in the ongoing trade war saga with China.  Reports circulated that the administration was considering restricting Chinese investments in the US – including the possibility of de-listing Chinese companies from US stock exchanges.  Investors don't care if this would be an effective measure in the trade war – they DO NOT like interference with the market.  Nervous selling ensued.
The second story, which had a peripheral impact on share prices, at most, was the circus in Washington surrounding the latest episode of "he said, he said" between Dems and the GOP over the telephone call between President Trump and the president of the Ukraine and the impeachment inquiry that grew out of it.  While this story dominated the headlines, it is not a major consideration for Wall Street.  The "serious money" does not believe that any impeachment effort will go anywhere – so they don't pay much attention to all the fuss.
In our TSP Watchdog database, we have no trend changes to report.
This means that the C fund, S fund and I fund continue on positive trends – and remain in our allocation models.  The F fund remains on the outside looking in – still on a negative trend and still excluded from our model allocations.
The market has been in back-and-forth mode for a few months now – two steps forward, two steps back, if you will.  This doesn't make us much money, but it doesn't lose much either.  Trends aren't affected much either, and all the stock funds remain on positive trends.  This leaves us on an escalator that is alternately moving forward and backward – but not much in either direction.
We are watching the machinations, and if anything changes we will alert you.  Until then, stay where you are.
As always, please reply to this email with any questions.
Scot B.