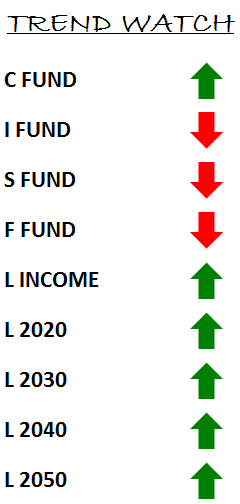 This is your TSP Watchdog UPDATE for the week ended December 23, 2021.
MERRY CHRISTMAS!
(if you do not celebrate Christmas, we offer you the same loving spirit of the season in whatever terms are meaningful to you)
The stock market put a few presents under the tree for investors this week – with the S&P 500 jumping 2.27%, the Dow gaining 1.65% and the NASDAQ surging 3.19%.  Pretty much, the markets recaptured the ground they lost last week – in a holiday-shortened week.
Before you get too excited, the jump occurred on about 1/3 the volume we saw last week – meaning there wasn't much participation.  This coming week will most likely also see light volume – so the telling movements won't be until the New Year.
Light volume is not to say that there is nothing happening in the world.  Investors seem to like the information coming out about the omicron variant (less severe symptoms, relatively fewer hospitalizations – despite surging cases – and a new "learn to live with it" message from some health experts) and the comments from Senator Manchin that have derailed (at least for now) President Biden's Build Back Better agenda.
But again, the impact on stock prices is skewed by light volume.  A more representative sample size will be available after the first of the year.
In our TSP Watchdog database, we continue to have split readings in our primary growth funds – with the C fund still on a positive trend while the S fund and I fund are negative.  The F fund continues on a negative trend.
We will certainly keep an eye on things this coming week, but the activity that we expect to be really meaningful will be in January – good or bad.
So, enjoy your New Year.  Be safe.  We'll talk again in 2022.
Scot B.