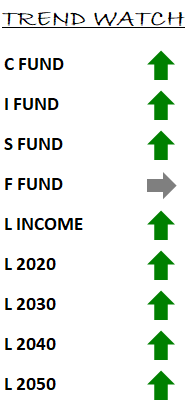 This is your TSP Watchdog UPDATE for the week ended October 11, 2019.
Stocks broke a three week losing streak – with the S&P 500 gaining 0.62%, the Dow rising 0.91% and the NASDAQ advancing 0.93%.  All market data from the Wall Street Journal online edition.
Against a backdrop of impeachment chaos, stocks started the week down on Mon and Tue – with rising tensions over US-China trade and EU criticism of British Prime Minister Boris Johnson worrying investors.  But then fortunes reversed and stocks rallied on Wed-Thu-Fri – as the Fed announced renewed quantative easing policies to resume open market bond purchases and President Trump announced a "first phase" trade agreement with China.
Looking ahead, earnings will take center stage for the next few weeks.  Q3 results will dominate the financial news – regardless of what is happening in the never-ending saga inside the Beltway.
With stocks advancing, there were no trend changes in our TSP Watchdog database.  All three growth funds remain on positive trends – and all three moved further above their trend lines.  The F fund sold off with a sharp rise in interest rates (remember the teeter-totter relationship between interest rates and bond prices – when one rises, the other falls and vice versa).
For the past six months, stocks have been stuck in a trading range.  After a big selloff during Q4 2018, stocks recovered sharply during Q1 – but have been flat since April.  Without much movement in share prices, trends have been largely steady (we had two funds briefly fall onto negative trends, but for the most part, trends have been positive).  As long as trends remain positive, we recommend staying invested.  When/if trends change, we will shift gears and recommend a more defensive posture.
There are a lot of negative expectations for the market these days.  DON'T FALL PREY to the negative hype.  Stay the course as long as trends are positive – as the market is telling us that the negative news stories are not significant enough to act on.
As always, please feel encouraged to reply to this email with any questions you have about the markets, the TSP or your own TSP account.
Scot B.