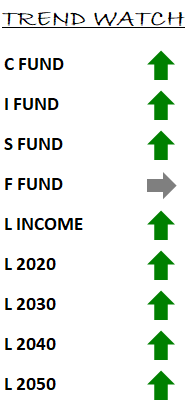 This is your TSP Watchdog UPDATE for the week ended October 18, 2019.
Stocks were mixed this week – with the S&P 500 UP 0.54%, the Dow DOWN 0.17% and the NASDAQ UP 0.40%.  For most investors, things did not feel as bad as the indexes indicated – as almost all the losses came on Fri due to large declines in just two stocks: Boeing and Johnson & Johnson.  (all market data courtesy of the Wall Street Journal online edition)
As happens so often these days, the biggest stories in the news are not market-related – so you have to sift through a lot of non-news, gossipy headlines to figure out what investors were focused on.  Neither the situation in Syria nor the media frenzy that is being called an impeachment inquiry (but is actually not – the House having three times voted against an actual inquiry – the most recent being in July) is moving the markets.  Both feed the anti-Trump mill in Washington, but neither are of particular concern to investors.
Of much more interest to the markets: economic reports were mixed during the week – as were stock prices.
On the trade front, the heavy lifting on a Phase One trade agreement – ironing out the details – begins now.  With economic reports from China as bad as they have been in decades, it remains to be seen if this weakness will be enough leverage to extract favorable terms in any agreement.  A lot has been said and promised, but it's really too soon to tell whether any actual substance will find its way into a final draft.  Stay tuned.  Progress, or lack thereof, will move the markets in the weeks and months to come.
In our TSP Watchdog database – SURPRISE – there are no trend changes to report.  OK, not a surprise.  With virtually no movement in the markets, it is not a surprise that none of the funds reversed their trend.
The C fund, S fund and I fund remain on positive trends – and we continue to hold them in our model allocations.
The F fund continues a negative trend – and we continue to exclude it from our model allocations.  The funds that would be allocated to the F fund if it's trend was positive are instead in the G fund.
All the L funds are on positive trends.  We do not include any L funds in our model allocations because they are just pre-determined combinations of the primary funds.  We do track their trends so that people who want to hold them can have some guidance about their "hold/avoid" status.
If any trend changes come along, we will certainly alert you.  In the meantime, stay the course with the growth funds (C fund, S fund and I fund) and continue to avoid the F fund.
And, as always, please feel encouraged to reply to this email with any questions.
Scot B.