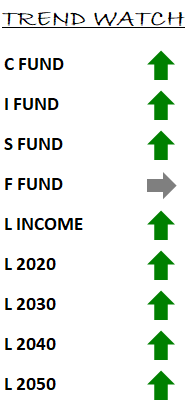 This is your TSP Watchdog UPDATE for the week ended December 6, 2019.
Stocks were mixed this week – with the S&P 500 UP slightly +0.16% while the Dow and the NASDAQ were DOWN slightly -0.13% for the Dow and -0.10% for the NASDAQ.
The week certainly did not start out so moderately.  Mon and Tue saw triple digit declines in the Dow due to comments from President Trump that he may not push for a trade deal until after the 2020 election and/or he had no definite deadline for completing a deal.  SELL!
On Wed, the narrative flipped, and Chinese negotiators offered to waive tariffs on soybeans and pork shipped from the US.  BUY!
The market's recovery was complete on Fri – as a much-stronger-than-expected employment report drove prices back to within a stone's throw of where they finished last week.
Stocks started the week dropping more than 725 points.  By Fri, they had recovered all but 36 of those points.
Of course, impeachment remains the top story nationally – but it also remains a non-story on Wall Street.
In our TSP Watchdog database, trends remained unchanged – as you might guess.
The C fund, S fund and I fund remain on positive trends – as do all the L funds.
The F fund remains on a negative – actually falling a little further below its trend line as interest rates jumped and bond prices fell.
The activity this week – big drop to start the week and full recovery by week's end – is an excellent example of why we do not update our trends daily.  There are simply too many "false" signals on a daily basis.  Weekly updating is a good balance of often enough (monthly would just be too long!) but not too often (so we don't get whipsawed by action like we saw this week).
Bottom line – we continue to hold the three growth funds in our model allocations.  As long as their trends remain positive, we will maintain this posture.
As always, please feel encouraged to reply to this email with any questions.  We are here to help any way we can.
Scot B.