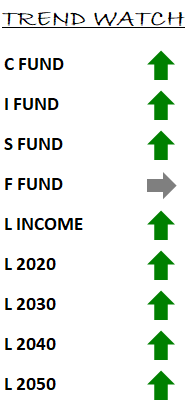 This is your TSP Watchdog UPDATE for the week ended December 20, 2019.
Stocks surged again this week – the last full week of trading before two holiday weeks spanning Christmas and New Year – with the S&P 500 gaining 1.65%, the Dow gaining 1.14% and the NASDAQ gaining 2.18%.  All three indexes hit new all-time highs.  (all market date from Yahoo! Finance)
Impeachment dominated the news cycle through the week – as the House passed two articles of impeachment.  As we go to press, it remains unclear if/when these articles will be delivered to the Senate for a trial.  Wall Street rolls its eyes with an almost total lack of interest.
Of much more interest to investors, this week saw several strong economic reports.  Multiple housing reports, industrial production, personal income and consumer spending all came in ahead of expectations (according to published reports in the Wall Street Journal online edition).
Also, the Phase I trade agreement with China continues to take shape through comments from trade negotiators.  Reportedly, a formal signing is in the works, and China has agreed to buy large amounts of US goods – most notably agricultural products.
Finally, the USMCA (US Mexico Canada Agreement) was approved in the House by a solid bi-partisan vote.  Mexico has approved the treaty.  Canada is in process.  When enacted, the pact is expected to deliver moderate improvements on NAFTA – the Clinton-era agreement that currently governs trade with our North American neighbors.
In our TSP Watchdog database, we have no changes to report.  The C fund, S fund, I fund and all the L funds remain on positive trends.  In our approach to investing TSP funds, positive trends are a "thumbs up" to holding these funds.
The F fund remains on a negative/neutral trend – a "thumbs down".
We have not had any trend changes in several months.  While it may be "boring" not to recommend any changes for extended periods of time, this is a positive – as our recommendation to hold these funds has coincided with one new all-time high after another.  In other words, we have been recommending holding the equity funds in the TSP during a time when the market has been going higher and higher.
We make no apologies for this "boring" run of recommendations.
That said, we have no pre-determination to hold any of the TSP funds.  Our recommendations are based solely on trend analysis – and if trends change, we will change our recommendations.
We wish you all a Merry, Safe and Joy-filled Christmas – the wonder of the season.
Scot B.